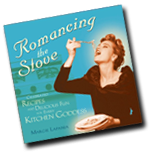 Romancing the Stove:
Celebrated Recipes and Delicious Fun
for Every Kitchen Goddess
(formerly published as Goddess in the Kitchen)

"Cook up some mischief and heavenly fare with this 'chicklicious' book. Margie is Betty Crocker with a glamour-goddess makeover and a sexy attitude adjustment--the divine secrets of the yum-yum sisterhood revealed."

~ Ame Beanland, co-editor of Nesting: It's a Chick Thing

Many people find cooking labor intensive, hard work, but not so best-selling author and self-styled "culinary courtesan" Margie Lapanja. In her cookbook, Romancing the Stove: Celebrated Recipes and Delicious Fun for Every Kitchen Goddess (Conari Press, 2002), Lapanja shares her secrets for creating a kitchen that is fun and casual, allowing us to approach cooking creatively and playfully and enjoy the art of cooking, loving, and living!

Romancing the Stove is as much about the sensuous playground of the kitchen and the Kitchen Goddesses who dwell there as the cooking itself. With recipes that range anywhere from simple comfort foods to gourmet feasts, you'll have your friends, family, or lover thinking you have magical kitchen powers too! Gracing the pages of this unique cookbook are much more than recipes—a fine seasoning of quotes, fun anecdotal stories about the magical nature of food, and the five keys to turning cooking into a delight of the senses. These include:
Choosing a recipe that is legendary in effect (this could even be Mom's meatloaf if that's what he loves!)
Find dishes that are pleasurable to make (food that you have always loved yourself or dreamed of creating)
Less work, More play (you never want to spend too much time in the kitchen!)
Be expressive and creative when cooking
Select dishes that your dinner guests will enjoy and remember forever
In addition to Lapanja's culinary inspirations, you will discover how to leave a lasting impression with aphrodisiacs, how to weave "spells" that induce romance into your cooking, and how to whip up a recipe for the Perfect Party. The Golden Apple Invitational is a fun inter-active recipe exchange open to all kitchen goddesses and demi-gods!

"When was the last time you picked up a cookbook and actually read it from cover to cover?" asks culinary historian Andrew F. Smith in his foreword. "I don't mean skimmed some recipes, I mean really read a cookbook? Romancing the Stove …is one of the few modern cookery books that I actually read—and relished—from beginning to end. In fact I read it twice!"



Editorial Reviews


Amazon.com
Margie Lapanja made a fortune baking and selling her Cowboy Cookies. She shares the chocolate, nut, oat, and coconut-studded recipe in Goddess in the Kitchen while urging you to bring more play and passion into your cooking. As one of many inspirational quotes in this book suggests, "Communion, union with divinity, is accomplished by means of food" (Thomas Moore, Care of the Soul). If Chicken Soup for the Soul is your cup of tea, then Goddess in the Kitchen is likely a cookbook for you. Lapanja, a card-carrying member of the Wild Woman Association, is passionately dedicated to encouraging uninhibited behavior. Her indulgences--mostly benign--lean toward daydreaming about eating virtuously lean Mango Tapioca Pudding on a desert island, sipping champagne with buttery shortbread (a sweet once associated with the Celtic spring celebration Beltane), and the like. Before each recipe, she provides historical and mythological information, particularly about the earth-mother Demeter and other goddesses, or some New Age inspirational advice, often combined with provocative personal ramblings. Since Lapanja's motto is "Eat dessert first," many of her recipes focus on sweets.

Written in an all-out style, this is a book you will love or hate. It's for you if advice like "We need to fall back in love with our food, the cooking process, and ourselves" speaks to you, or if your heart melts at the true story of the passionate romance between a priest and an ex-nun who ultimately wed, had six children, and still love to linger over a bowl of Pasta with Ginger Shrimp Soul Sauce.
--Dana Jacobi --This text refers to the Paperback edition.

From Booklist
New Age philosophy illumines every page of this unique cookbook. At the book's outset, Lapanja lays down her guidelines for cooking, and she follows these precepts religiously. Her rules call for food that is wholly a pleasure, both for the cook and for diners. Her guiding-star recipe appears to be a kids' favorite, cookie-dough pancakes, a novel breakfast treat calling for cookie-dough bits--any dough will do--dropped onto pancakes as they sizzle. Lapanja wants cooks to follow wherever their imaginations lead. Her own inspirations run to sweet treats above all. Even her main-course dishes combine sweet and savory components for no-holds-barred cooking. Lapanja's island casserole mixes fresh fish and rice with garlic, canned crushed pineapple, cheese, and canned artichoke hearts in curry sauce. Other dishes, such as her profiteroles, adhere to more disciplined tradition.
Mark Knoblauch --This text refers to the Paperback edition.



The Art of Practical Seduction

The quest for love has led too many women down devious and disappointing paths. Far too often, in a desperate search for the Cupid's arrow, women have futilely exhausted their energy and resources: riches have dissipated on insanely expensive cosmetics in vain attempts to hide sad smiles or on hair colorings in hopes to masquerade heads full of misgivings; time has been misspent on reading addicting romance novels and ridiculous magazine articles like "How to Win His Love by Dating His Best Friend." Thoughts that could have been channeled into creative and inspired action have been squandered on obsessive imaginings about "Mr. Fantasy."

Dear ladies, please listen. Let me reveal a priceless, timeless secret. The wisest investment you will ever make in attracting and securing a loving man is a simple, yet powerfully intoxicating tool: a cookbook--a collection of love potions.
"Woo with food as well as flattery."
"Kissin' don't last--cookin' do!"
"The way to a man's heart is. . . ."

Believe this ancient wisdom. Just as the artist creates a masterpiece with canvas and brush, so an artful kitchen goddess creates a satisfied and attentive companion armed only with her cookbook and sensuous imagination. The art of seduction can be mastered simply by learning to concoct spellbinding foods…and knowing when and how to serve them forth.

Vital information, such as a detailed account of this potential squire's soul-stirring favorite foods must be oh-so-subtly extracted from him when you first meet-his dearest dessert, the beloved things mom used to cook for him, and his ideas of mouth-watering meals and libations. Then consult your book of wisdom and find the irresistible variations of those endearments.

A man's need for nourishment and love is so intricately interwoven that often he makes no distinction between the two. As you prepare a tantalizing Garden of Eden Apple Pie, sprinkle your own wishes and desires into the mixing bowl. As in the movie "Like Water for Chocolate," these passion-inflamed spells will act as powerful adhesive, binding butter, sugar, and flour into practical, work-a-day aphrodisiacs. The aroma of cinnamon-spiced Stud Muffins from Food Men Love will bring about the most primal reactions in a man. Add to this a sweet and creamy spoon-fed dish of Italian gelato. His senses will ignite, and with them a profound interest in the woman who is tending the fire.

By collecting inventive ideas, an inspired courtesan can add spark to her recipes, and ultimately, to her romances. Skill, and a spicy sense of awareness, will enable you to pepper your cookbook collection with insightful modifications, anecdotes, and a journal account of personal discovery. Making a dedicated effort to perfect these ambrosial feats to your fancy should naturally spur you toward fashioning dazzling enhancements in your life. A true revelation might then occur: the search for fleeting affection has blossomed into an illuminated life of harmony and happiness-and candlelight rendezvous-with a man who adores you. Your actions have been glorified by your gifts.

Then, it's time to beguile your passionate palates for the long haul. Consider this vision: You are charming an extraordinary par amour by gazing into his hungry eyes. Your very best, freshly baked chocolate chip cookies glow between you. As an added enticement, you have dabbed a hint of vanilla behind your ears--knowing Chanel No. 5 would have worked in a pinch. The atmosphere is aromatic and bewitching. Smiling, you nibble the edge of a scrumptious morsel and present the rest of the cookie to your eager male. After he has finished your coy offering and is completely mesmerized, invite him for a sweet, sweet kiss. The moment is mystical: you may not have expensive lipstick on your smile, but you will have a satisfied man in your arms.

Make your life deliciously playful. Make a dynamite pasta with ginger shrimp soul sauce and serve it in the moonlight. Make the most enticing Lady Godiva Chocolate Seduction Cake ever to brush the lips. Make breakfast-in-bed Portuguese Toast with Love Sauce or a batch of Magic Double fudge Brownies from Goddess in the Kitchen. Make a wish for happiness. Make love.

Order from Amazon.com click here!
Order from Conari Press click here!